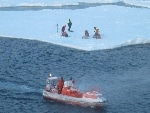 North Energy deltar sammen med Norut Narvik og flere næringslivsparter i forskning knyttet til kaldt klima-teknologi.
Prosjektet har en prosjektperiode på 5 år og North Energy er representert i styringsgruppen ved Teknologidirektør Knut Aaneland.
Norut Narvik og Høgskolen i Narvik har siden 1990 utført forskning innenfor ulike områder av kaldt klima-teknologi. Hovedmålet med denne satsningen er blant annet å bygge opp et kompetansesenter i Narvik innenfor kaldt klima forskning. Etablering av Cold Climate Technology Research Centre er selvsagt et viktig element i denne satsningen.
ColdTech ledes av Norut Narvik. Konsortiet består ellers av Høgskolen i Narvik, Energi Campus Nord og Norut Alta, Luleå Tekniske Universitet samt DNV Harstad. Prosjektet har en foreløpig prosjektperiode på 5 år, og en total budsjettramme på ca 75 millioner. Kommunal og regionaldepartementet bidrar gjennom Norges forskningsråd med vel 48 millioner.
Prosjektet har en god medfinansiering fra næringslivet hvor blant annet Shell Norge, North Energy ASA, Total E&P Norge AS, Det Norske Oljeselskap ASA, Nordkraft Vind AS, Nordkraft Produksjon AS, Hammerfest Energi AS, Statkraft Energi, Betong- & Entreprenørsenteret AS, Multiconsult adv Narvik, IKM dsc Engineering AS og Maritimt Forum Nord er inne med delfinansiering.
Prosjektet er inndelt i fire arbeidspakker, samt en implementeringsaktivitet:
1. Weather Protection design and performance (vinterisering)
2. Ice mechanics and ice forces (ismekanikk)
3. Atmospheric icing on structures (atmosfærisk ising)
4. Applied arctic technology (anvendt arktisk teknologi)
5. Implementation of technological research
Forskningsoppgavene utføres av Norut Narvik, Høgskolen i Narvik, Luleå Tekniska Universitet, Det Norske Veritas og Norut Alta / Energi Campus Nord. Akademiske partnere er Canadian Hydraulic Centre, Arkangelsk State Techical University (ASTU) og VNIIG.I prosjektet legges det opp til 4 PhD – stipendiater i samarbeid med Luleå Tekniska Universitet og NTNU.
Du kan lese mer om prosjektet her: www.kaldtklima.net